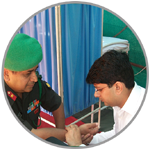 2.5 Lakhs+ patients treated
2.5 Lakhs+ Kidney patients treated globally without any artificial procedures.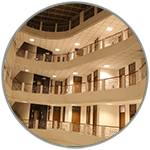 Dedicated Indoor Wing
Biggest Infrastructure with Indoor Facility, Panchkarma, Yoga.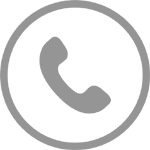 24x7 Helpline
Online/Telephonic/Personal Consultations Through 24*7 Helplines
HYDRONEPHROSIS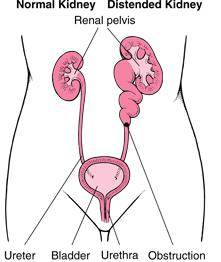 Hydronephrosis is a swelling of one or both the kidneys due to back flow of the urine. This condition is not a disease itself but occurs along with other disease conditions. Conditions such as obstruction in urine flow, kidney stones, back-flow of urine from bladder to kidney, etc can cause hydronephrosis. Approximately, 1 in 100 people are known to get affected with the condition. Normally, the kidney filters waste products from blood and disposes of it in the urine. The urine drains into individual calyces that form the renal pelvis. This empties into the ureter, a tube that connects the kidney to the bladder. The urethra is the tube that empties the bladder. Hydronephrosis causes impairment and decreased kidney function. Anything that causes obstruction leads to increased pressure and the increased pressure of extra fluid within the kidney decreases the blood filtration rate and may cause structural harm to delicate tissues that make up the filtration system within kidney , which could lead to infection or loss of function. This decrease in function is reversible if the fundamental condition is corrected but if the hydronephrosis lasts many weeks and become chronic or remain asymptomatic, the damage may be lasting.
Symptoms of Hydroneprosis
Swollen kidneys.
Reduced urine output
Colic
Symptoms of chronic hydronephrosis with slow onset:
No early symptoms
Dull groin ache
Causes of Hydronephrosis
Following is a list of causes or underlying conditions that could possibly cause Hydronephrosis includes:
Congenital defect of the urinary tract, Urinary stones, Kidney tumor, Urinary tumor, Urinary scarring

Other underlying conditions related to Hydronephrosis:
Renal enlargement
Renal failure, chronic
DIAGNOSIS
Blood tests may show impaired kidney function (elevated urea or creatinine) or electrolyte imbalances such as hyponatremia etc. Urinalysis may indicate an elevated pH due to the secondary destruction of nephrons within the affected kidney. Physical examination may detect a palpable abdominal or flank mass caused by the enlarged kidney.
ALLOPATHY TREATMENT AND OUTLOOK FOR HYDRONEPHROSIS
Surgery , Kidney shunt , Kidney, Kidney removal - satisfactory if only one kidney is affected. People who have long-term hydronephrosis may need antibiotics to reduce the risk of urinary tract infections.The treatment results hydronephrosis is extremely variable, and depends on the condition leading to hydronephrosis, whether one (unilateral) or both (bilateral) kidneys are affected, the pre-existing kidney function, the duration of hydronephrosis (acute or chronic), and whether hydronephrosis occurred in developing or mature kidneys. For example, unilateral hydronephrosis caused by an obstructing stone will likely resolve when the stone passes, and the likelihood of recovery is excellent. Alternately, severe bilateral prenatal hydronephrosis (such as occurs with posterior urethral valves will likely carry a poor long-term prognosis. because obstruction while the kidneys are developing causes permanent kidney damage even if the obstruction is relieved postnatally.
If hydronephrosis is left untreated, the affected kidney may be permanently damaged. Kidney failure is rare if the other kidney is working normally. However, kidney failure will occur if there is only one functioning kidney
OUR CONCEPT
The treatment of hydronephrosis will depend upon the underlying cause, extrinsic or intrinsic factor and vitiated dosha. After taking into account history of the patient, surfacing symptoms, we use combination of herbs which work in a synergistic manner to restore the imbalance of vata, pitta, kapha energies and help improve the kidney function. Each herb has each different effects on your health. A single herb might address only one aspect of a person's imbalance, but we tailor a formula to address the full range of the imbalance on a constitutional level. These herbs are not only an effective ayurvedic treatment for proper kidney function but also remove infections by opening up blocked channels.. According to Ayurveda the balance of 3 energies- Vata, Pitta and Kapha (Kinetic, Thermal and Potential energy) in the body is a disease free state whereas their imbalance causes diseases. The herbs in this product act synergistically to control vitiated Vata" "Pitta" and "Kapha". These 3 energies of the body, when vitiated cause organ failure and toxins accumulation and also cause kidney failure. The herbs maintain the balance of these energies and help aid kidney function. Our Sarotoshodak herbal medicines reduce the inflammation of nephrons and repair the delicate tissues of kidneys and active principles of our medicines, help to permeate the cells quickly. Our medicines help promote the blood circulation of blood vessels all over the body and deal with the damaged renal tiny blood vessles. With the renal blood circulation, the oxygen and blood will be carried to damaged kidney vessels and tissues, repairing the damaged kidneys and improve kidney function.
The approach of our herbal treatment is comprehensive i.e. it not only deal with the kidney damages itself, but also obtain a whole-body balance of your health. Patients usually find their symptoms, such as high blood pressure, fatigue, bad sleep and blood in urine etc, alleviated after herbal treatment. Besides, some herbs are good at killing infections. Their effects are mainly related to anti-inflammation, antioxidation, antifibrosis, regulation of immune system, anticoagulation, and improvement of metabolic disturbance.
Our Videos
Kidney Treatment in Ayurveda
---